Often when I consider Lenten reading, I turn towards spiritual classics or stories of the saints. Poetry, however, offers a meditative way to focus our minds and hearts on just what it is that we remember in this holy season. Herman Sutter's Stations: A Poem Cycle and Nikki Grimes' At Jerusalem's Gate: Poems of Easter offer thoughtful re-imaginings of the events of Holy Week.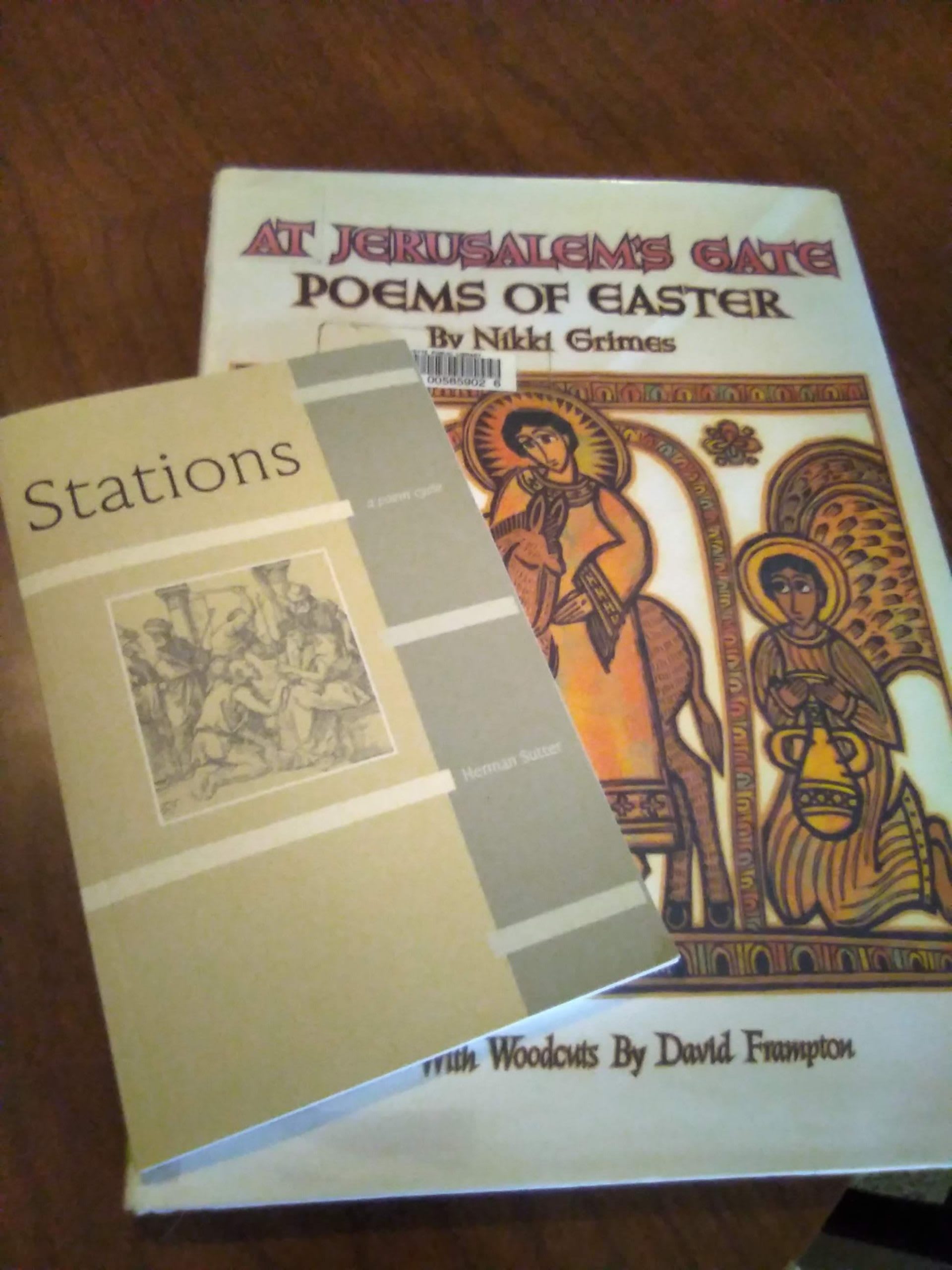 Stations: A Poem Cycle by Herman Sutter (Wiseblood Books) is a slim volume consisting of one poetic reflection for each of the stations of the cross. Shifting voices and forms keep the reader off-balance in a way that feels appropriate to the topic, and rich language begs for the sort or re-reading that facilitates reflection.
For example, "Station I: Pilate Condemns Jesus to Death" asks in Pilate's voice, "Where is your throne?" The question is answered in part in "Station II: Jesus Accepts the Cross": "Receive thy burnished throne; bear it away,/ thou silent king of all you survey." This sort of linguistic and spiritual depth, with words and ideas sliding under the surface then reappearing a few poems later, pervades the entirety of the work. The different kinds and meanings of "silence" which these poems suggest would itself be a rich source of reflection.
Aimed at younger readers (the publishers recommend ages 10 and up), Nikki Grimes' collection At Jerusalem's Gate: Poems of Easter (Eerdmans Books for Young Readers) follows the Easter story from Christ's entrance into Jerusalem through his encounter with his disciples on the road to Emmaus. She doesn't shy away from the painful moments of the story, and reminds the reader that Easter only holds its full meaning if we recognize "the price Jesus paid…and that price included suffering on the way to the cross." Rich with reflections and honest questions, At Jerusalem's Gate is a book to share with older children as you enter into the mystery of Holy Week and Easter.
"Evidence of Mercy" considers what was for me a new question: What must Malchus, the slave whose ear Peter cut off during Jesus' arrest and whose wound Jesus healed, have thought of the crucifixion? Grimes gives Malchus a question that must have been in many other people's minds. "[He] puzzled why/ one with such power/ would consent to die."
As if Grimes' poetry weren't powerful enough on their own, richly colored and moving woodcuts by David Frampton promise another way to enter into reflection on the events of Holy Week and Easter. At Jerusalem's Gate may be intended for young readers, but its poems and images offer rich insights for Christians of any age.
If, as Plato (supposedly) suggests, "Poetry is nearer to vital truth than history," then Stations and At Jerusalem's Gate offer abundant opportunities to draw near the truth of our salvation this Lenten season.